When someone mentions Hawaii and the colorful, island-themed clothing comes up in the conversation, especially the ubiquitous Aloha Shirt, you might think of the television show Hawaii Five-O, or if older, the original Hawaii Five-O with Jack Lord, or Magnum P.I. with Tom Selleck. These shows, along with films such as From Here to Eternity or Elvis Presley's Blue Hawaii, introduced viewers to the splashy, tropically themed shirts.
Today, the Aloha Shirt's popularity is enjoying a fashion resurgence globally with some detours into a younger, reinterpreted tropical style by mostly well-known non-Hawaii designers. In a recently updated article originally written in 2014 in the Huffington Post, James Cave writes,
According to the Wall Street Journal, aloha shirts are back in a big, and expensive, way. Bergdorf Goodman has invested heavily in Hawaiian-inspired prints this year; Hedi Slimane designed a $840 shirt for Saint Laurent this year and Prada is selling $1,500 long sleeve Hawaiian print shirts. (That's a bargain: Because long sleeve styles were printed for only a short time, an original long sleeve aloha shirt once sold at Sotheby's for $10,000.) Forbes has called the resurgence the "Hawaiian print redux."  
However, Hawaii's traditional Aloha Shirt by local designers is alive and well in the Islands. An intact short-sleeved vintage shirt, created in the 1930s or 1940s, can sell for a couple thousand dollars. Bailey's Antiques and Aloha Shirts is a visual candy store of Aloha Shirts and has some of these rare $$$ finds. The store also offers collectable and new reprint Hawaiian shirts in all price ranges.

A Brief History of the Aloha Shirt
The history of the colorful Hawaiian shirts and muumuus (loosely fitted full-length dresses) is a reflection of the various cultures of Hawaii, including early Hawaiian kapa motifs, Chinese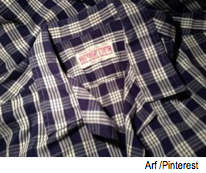 and Japanese seamstresses, and American-made cloth. The early designs, according to H. Thomas Steele in his book, The Hawaiian Shirt, were "more geometric and less floral" than what one sees today. This was probably a result of the shirt's initial spawning in the early 1920s from the plantation worker's "checkered" Palaka shirt.            
When rayon was introduced in the mid-1920s, the colorful Hawaiian shirt became more durable than its earlier cotton and silk counterparts, and the dyes in the shirts remained vibrant longer. As tourism continued to grow in the islands, the shirt became a sought-after souvenir – and something of a status symbol. Small tailor shops began to produce and promote the "Aloha Shirt," the new term trademarked in 1936 by local shirtmaker Ellery J. Chun.
Tourism, Celebrity, and the Increased Popularity of the Aloha Shirt
After World War II, tourism continued to expand, and shirts became even more colorful with floral and tropical motifs, including famous local landmarks, hula dancers, outrigger canoes, and
tropical fish.  Many soldiers and sailors carried these shirts home with them, and when the shirts appeared in films with Hawaii locations and Hollywood celebrities wearing them, they became a "must have" for those tourists lucky enough to be able to visit the Islands. Here is an early 1950s photo of Duke Kahanamoku, Olympian, actor, and "Ambassador of Aloha." He is flanked by actors Richard Boone and Peter Lawford wearing floral and geometric Aloha Shirts on Waikiki Beach. Duke was certainly a healthy looking and handsome senior, but his Aloha Shirts just made him all the more attractive! For more details about the Aloha Shirt and its history in Hawaii, go to the Aloha Shirt Club on Facebook.

In 1946, local Jaycees created a Hawaii tradition called Aloha Week, celebrating Hawaii's cultural heritage. According to Steele, the pride in the celebration caused even "staid businessmen to wear Hawaiian shirts to work" during that week. And Aloha Friday is the by-product of that tradition. Aloha Shirts can be seen being worn by businessmen all over the islands on Fridays, and today, even on other days of the week. 
Today's Aloha Shirt
Reyn Spooner introduced a more subdued, more "Ivy League" Aloha Shirt that has been a part of the Hawaiian business scene since the late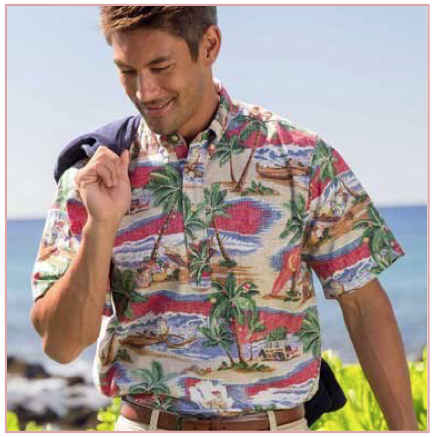 1950s. First came the idea for the "inside out" reverse print (loved by locals) and then more preppy designs appealing to the young surfers and would-be surfers of the day. These features were combined with the fine tailoring of an Oxford shirt and followed by the creation of Spooner Kloth, a cooler durable cotton/polyester blend that resists wrinkling. Reyn Spooner shirts helped to spread the concept of Casual Fridays beyond the islands to California and eastward. 
Reyn Spooner Hawaiian designs in pullover or button-front style can be purchased directly from the Reyn Spooner online store, along with casual wear for men and children. Amazon has a good selection of Reyn Spooner Hawaiian shirts as well. Ebay also has some traditional as well as specially made college-themed Reyn Spooner Hawaiian shirts. As one local Yelp reviewer writes, "When it comes to an Aloha Shirt, look no further than Reyn Spooner."
Whether it's an Aloha Friday event,  just a Casual Friday meet, or a casual get-together on the weekend, an Aloha Shirt can brighten up the festivities and set the mood for a good time! 
Please note that some of the links above may be affiliate links, and at no additional cost to you, I will earn a commission if you decide to purchase something after using the link.