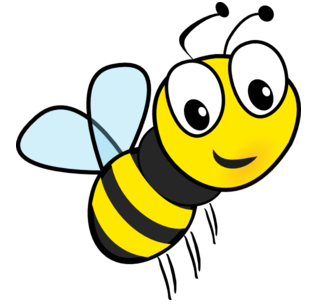 The only other supplement I use besides Original Gluthathione Formula (OGF) is NatureBee Potentiated Pollen. I have been taking it for about 15 years now; it is my vitamin supplement.
Note: If the NatureBee links to its website are not working, the website address is https://naturebee.com. I am trying to work with the company's webmaster on this problem.)
NatureBee Potentiated Pollen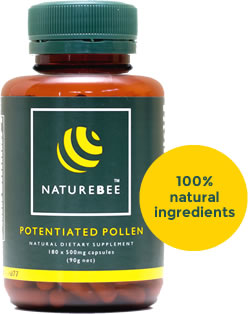 When I was working full time, and then some, I used to take 5,000 mg of Vitamin C every day to fend off colds. When I heard a local radio commercial about all the beneficial nutrients in NatureBee, I decided to try it and forego the Vitamin C. I didn't pay much attention at first, but after awhile, I started to notice that I wasn't getting any colds, or flu. I certainly am not sure if this is directly related to my using NatureBee, but I cannot remember when I last had a cold; it has been years.
On the NatureBee website, testimonials speak of the benefits other users have experienced with this product, such as boosting energy. But first, a little bit of info on the product itself.
The website states that bee pollen naturally "contains 27 vitamins and amino acids, 28 minerals, 11 enzymes or co-enzymes, 24 beneficial fatty acids, and 11 carbohydrates, studies have found that the pollen bees collect to be the most natural food with the greatest range of nutrients." The website also displays the following interesting graphic.

Generally, raw bee pollen still has its hard husk, which significantly decreases the bioavailability of these potent nutrients in the body to 5-10%. However, the potentiated process used by NatureBee cracks open the husk so that the inner goodness of the pollen is more completely absorbed in the body. As the website notes, "NatureBee 'Potentiated' Bee Pollen is 100% bee collected, open cell wall, plant pollen nutrients. No added sugar, no artificial colouring, no preservatives, and no gluten. Never heated, NatureBee is fresh raw power and simply a vegetable food in a capsule."
The generally recommended daily dosage of bee pollen is about 1,000 mg, which NatureBee delivers in two edible capsules. However, the capsules can be opened to sprinkle the bee pollen product on food or in drinks.
The NatureBee bee pollen is harvested from hives in New Zealand and China, both meeting the rigorous quality standards of the pertinent New Zealand government agency.
There are some precautions when using bee pollen, so it is a good idea to review NatureBee's FAQs page.
NatureBee Potentiated Pollen can be purchased at Amazon or on its own website. Both Amazon and the NatureBee website offer the product for the same price, but the NatureBee website does not always offer free shipping.
Xtendlife Natural Energy
In doing my research on bee pollen, I have discovered another brand of bee pollen supplement that also delivers a high percentage of the pollen nutrients to the body. Xtendlife Natural Energy is also a New Zealand product. All of its bee pollen is harvested in New Zealand and meets a number of rigorous government and private standards.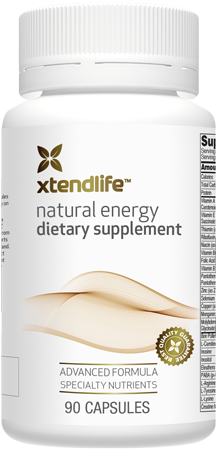 Xtendlife freeze dries its pollen to retain its potency. Then the pollen is mixed for several days with natural enzymes, which Xtendlife says prepares the pollen to offer "maximum bio availability." As it states on its website, "Normally enzymes have to be enteric coated to be effective, but in this product, they do their 'work' before the Bee Pollen is even encapsulated." I am assuming this means that this process breaks down the bee pollen husk, creating a powderized form of pollen while still retaining its potency.
According to the Pollen Natural Energy website, "Every batch of [Xtendlife] Natural Energy has a Certificate of Analysis (COA), which shows its purity level. It is manufactured using non-chemical methods under strict hygienic conditions that far exceed US FDA standards."
The Xtendlife website also notes that the product "does not contain soy, gluten, dairy, peanut or shellfish."
The recommended daily dosage is three capsules per day to provide over 900 grams of bee pollen as well as those digestion-enhancing enzymes.
Xtendlife Natural Energy can be ordered through Amazon. However, the Xtendlife website has options for free shipping and a 10% lower price in its Loyalty Program. On both the NatureBee and Xtendlife websites, users can view their extensive lines of other healthful products.
Both NatureBee Potentiated Pollen and Xtendlife Natural Energy deliver highly bio-available bee pollen that is so beneficial to promoting good health. NatureBee is the better $$ value per one month supply while the Xtendlife bee pollen is guaranteed to be harvested in the pure, clean air of New Zealand.
If you purchase either product through the Amazon links here, they are affiliate links, and at no cost to you, I will receive a small commission. I have no affiliate association with either NatureBee or Xtendlife.