I began my first article on Ecuador as a retirement destination citing an NBC article, "Top 5 Reasons to Retire in Ecuador," by Amber Payne. A lower cost of living and low-cost quality medical care are the first two reasons given and covered in my first and second posts on Ecuador. However, another alluring reason for considering Ecuador is its beauty and romance!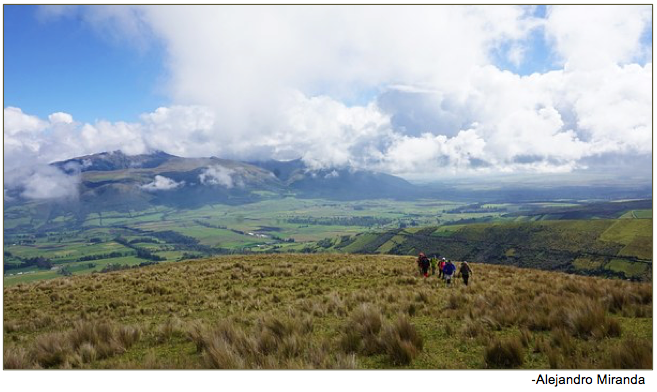 The beauty of the country with its varied climates and the cultural milieu that promotes romance and charm are just awaiting visitors considering a move to this lovely country. If seniors are looking for some new adventures, they can also be found here.
The Natural Beauty and Variety of Climates of Ecuador
Payne asserts that "Ecuador is a land of diverse experiences." She explains that "there are broad beaches on the Pacific Coast, snow-capped volcanoes, geothermal hot springs, and the dense Amazon forest" and, of course, the scenic Andes Mountains. Off Ecuador's Pacific coast is the famous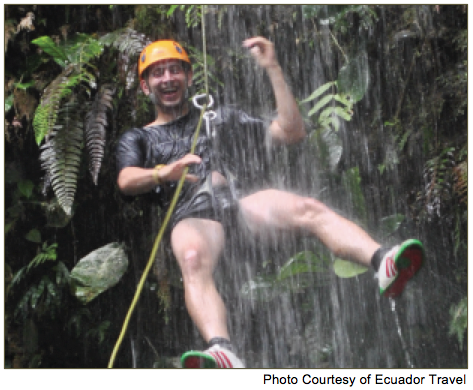 Galapagos archipelago of 20 islands.
In the little town named for its hot springs, Baños, fun and adventure await with rafting, paragliding, rappelling, mountain biking, and even bungee jumping!
Cuenca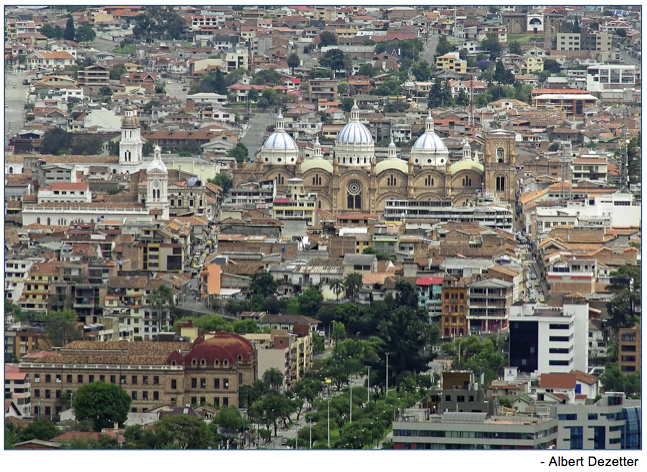 The city of Cuenca in the Andes is a popular ex-pat destination. It is regarded as the most European of the cities in Ecuador. In an article on the website Viva Tropical, the writer lists Old World charm and climate as one of the big attractions for living in Cuenca, a city of more than 275,000 people. The prevalent historic Spanish architecture on cobblestone streets, typically European-style parks and public squares, and assorted cafes and galleries contribute to an Old World ambience. And one ex-pat attributes this atmosphere to engendering romance as "here people hold hands and they kiss and love each other and they're not afraid to show it."
The surrounding area is a nature lover's joy with rivers, mountains, and outdoor experiences and adventures galore.
Because Cuenca is at an elevation of 8200 ft. above sea level, it has a very pleasant average climate of mid-70 degrees (24 C) during the day year round (owing to its proximity to the equator). An ex-pat from Michigan explains that the lower air pressure contributes to the "four seasons" experienced on any one day in Cuenca. "It is spring in the morning, summer at noon, fall in the evening and winter at night." (The "winter" is an average 50 degrees.)
Most of the comments I have read on the climate in Cuenca speak of wearing a sweater or light jacket at night. Although, being from Hawaii, I would need more than a light jacket at 50 degrees! Another retiree/ex-pat says that if you move to Cuenca "you will never find yourself dripping with perspiration, annoying insects are nowhere to be found, and you can leave the snowshoes at home."
However, this altitude with its thinner air may be cautionary for some seniors with specific respiratory health concerns as noted in comments on the GringosAbroad website. The city of Quito to the north is even higher in elevation. However, Ecuador has lower altitude locations such as the historic port city of Guayaquil and many smaller coastal towns that also have ex-pats enjoying the many things the country has to offer.
Cuenca Is a 2019 Top Retirement Destination!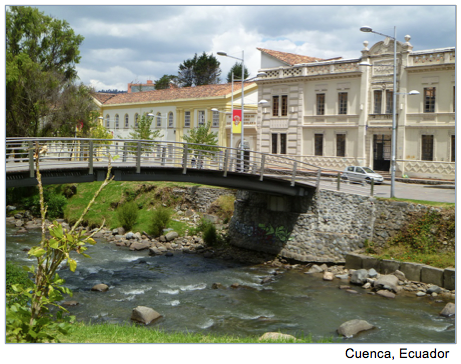 Live and Invest Overseas lists Cuenca as one of its top retirement choices for 2019. I downloaded the 13-page 2017 e-book on Cuenca (19 pages altogether with ads) from Live and Invest Overseas.com to see the information provided and rate the e-book's value as this is one of many Overseas Haven Reports that Kathleen Peddicord offers for relocation destinations around the world. (Note: This is an affiliate listing, meaning that should you use the link to the website and purchase any offerings, I may receive a commission but at no cost to you.)
The e-book echoes Amber Payne's points about a low-cost of living, affordable and high quality medical care, scenic beauty, and a very pleasant climate.  Unfortunately, there is no quick reference index for this e-book; however, it provides the following information written by a local ex-pat resident:
It provides information on location, a brief history of the area, a brief overview of the current (2017) president of Ecuador, and a summary of the current crime conditions in Cuenca. The resident author claims that petty crime is likely to be higher than most ex-pats are accustomed to but that vandalism, violent crime, and sex crimes "are far less common."

More detail is provided on the low cost of living, citing a comfortable monthly budget of $1,500 for couples who are renting and $1,100 for those who own. A link to a monthly budget breakdown is provided.

The e-book goes into more extensive detail on the real estate market for both potential renters and buyers.

The quality health care system and comparative services, prescriptions, and costs are discussed.

An interesting boxed section lists senior benefits in Cuenca, such as 50% off public transportation, airfare, electricity, water, telephone, and various cultural and sporting events. It also lists discounts for seniors on property taxes, Ecuadorian income taxes, vehicle taxes, and the Value Added Tax. The writer notes that Cuenca is "tax friendly."
The permanent ex-pat community in this city is about 1,500 North Americans, which swells to 2,500 by including the temporary foreign residents. Some own restaurants and cafes as well as other businesses that add to the community. However, the author notes that the ex-pats like to blend into life in Cuenca rather than isolate themselves. He recommends learning Spanish if not fluent already; however, there is a link for the online local English language newspaper, Cuenca High Life.

The concluding pages discuss obtaining visas, which one would want to do to first explore Cuenca; becoming a resident; moving household goods; and bringing pets.

There is some final info on banking, sites of interest, and hotels and eateries.
Overall, the e-book information is a good condensed starting point with necessary information on Cuenca and moving there – and some additional resource links and some sensible caveats. (I provide more links in Websites on Ecuador here and in my next post.) As I noted in an earlier post and is stated by this author as well, if interested in an overseas relocation, you need to visit the location first to experience it and see if it may be the right fit for you. 
Romance and Charm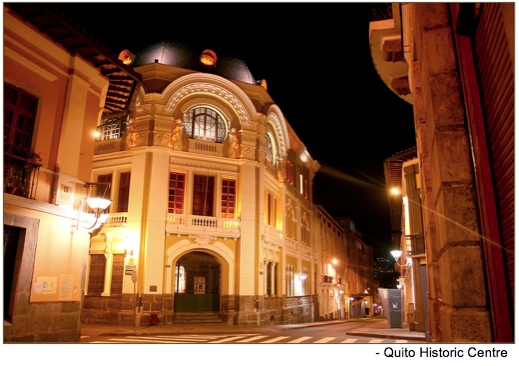 Getting back to the article "Top 5 Reasons to Retire in Ecuador," and the final reason for considering Ecuador, the historic charm of both Quito and Cuenca appear to engender Ecuador's reputation for romance. The lifestyle amidst the colonial architecture harkens back to an era in which Spanish colonial life replicated the class structure and refined culture of the homeland. In a slower-paced lifestyle today, ex-pats note a general friendliness of the locals, and make time for lingering in lovely cafes and art galleries or strolling hand in hand on the cobblestone streets and in tree-lined public squares.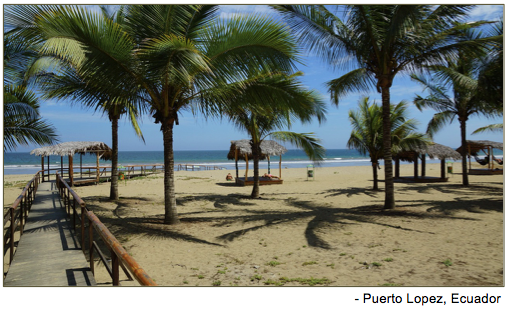 But as for romance, it also can be found in a receding vibrant sunset while bamboo torches are lit and the sounds of local music drift across the many beautiful ocean beaches lining the western edge of the country.
Easy Flight Access Getting to and from Ecuador 
Amber Payne's 2014 article cites accessibility to and from North America as another key reason to consider retirement in Ecuador. She says that there are several non-stop flights to Ecuador. I did indeed find a number of non-stop flights operating currently (2018). If departing from Atlanta, Miami, Dallas, or Houston, there are non-stop choices to Quito (a popular disembarking point for journeying to the Galapagos Islands) or Guayaquil, the largest city in Ecuador (almost 2 million people). Either Delta, United, American, Spirit, or TAME Airlines, the state-owned and largest airline of Ecuador, will take the visitor/ex-pat to these cities. TAME Airlines also has daily non-stop flights from New York to either Quito or Guayaquil.
However, there is an even larger selection of airlines offering flights with one stop through the airports in the American cities mentioned above. Delta, United, American, Jet Blue, and Air Canada have flights to Quito, and American and Air Canada also offer flights to Guayaquil. There are other Latin American airline options as well, such as COPA Airlines. The one-stop flight times depend on departure city and length of stop. For example, Chicago to Quito is 8-9 hours flight time; Los Angeles to Quito is 8-10 hours; Toronto to Quito is 9-10 hours; and Vancouver to Quito is 13-14 hours.
There are regional in-country airlines for connecting to places such as the popular ex-pat city of Cuenca.
While Amber Payne's five reasons alone may not be enough to make Ecuador one's new home, they are definitely a good start for exploring the possibility.