Internet Potential
On this website, I want to discuss various new and innovative ways for seniors to make extra income; however, since I now have a website, I want to begin the topic with what I have learned about a very popular means of making extra income by reaching a current market of over 3 billion users. The Internet is an unbelievable means of marketing for not only the corporate giants and retailers, but also the average person - including seniors. 
Affiliate Marketing
One means of earning extra income is by becoming an affiliate, and in many cases, it isn't necessary to create your own website to be one. Many networks and companies have affiliate programs that pay commissions to you when a person buys a product or service using an onscreen link, whether on your own website or on a website created for you by the product company, or a link on your social media platform, such as Facebook. YouTube is also another media source for affiliate marketing.
In an interesting article on affiliate marketing, Pat Flynn defines three types of affiliate marketing beginning with Unattached Affiliate Marketing. He also shows a 2009 monthly income made from his affiliate sales, a monthly extra income I certainly wouldn't mind making. In updating this article, he has added some further posts of interest:
A Learner's Guide to Digital Marketing by Digiperform provides a good overview of the affiliate program.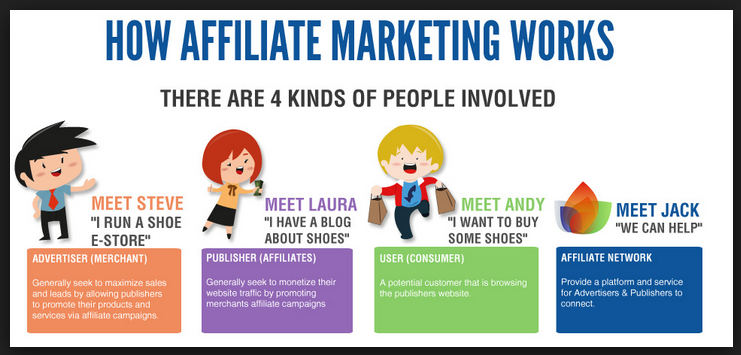 While these links go more into depth about affiliate strategies, it might get you thinking about putting your expertise to work to make some extra income. When I first began exploring creating a website, the one word that came up over and over again is niche, about finding your niche.
Well, when you think about, as seniors, we all have a niche, the thirty or more years that we spent in our jobs or professions - or maybe a lifelong hobby. Lots of bloggers write about what they know, have expertise in, or are very interested in, and then provide links to related products. We seniors have a lot of knowledge that younger folk would be interested in, really.
Selling Your Expertise
Go on the Internet and google up your expertise. Here you will find all kinds of ideas for extra affiliate income and other means for earning extra income. What is interesting is all of the ways that people have been creative in taking their expertise and making it marketable. For example, a teacher started the Teachers Pay Teachers website in which teachers can market their lesson plans and save other teachers tons of planning time. One teacher-marketer was the first to make over a million dollars using this site and then branching out with her own website, and since 2012, there have been many more teacher-marketer millionaires.
This linked article also mentions websites such as Udemy, which is a platform for people to offer courses on any subject (not just academic courses) for free or for a fee/tuition. Udemy also offers the software to create the course. Such a deal, right? There is a sliding scale of compensation for the paid courses, but there are again articles about the huge sums of money made by some of the instructors.
So, what did you do all those years, and do you think that someone else might benefit from what you learned and experienced? Are there products that you have worked with in your job or in a hobby and would recommend to others through an affiliate program? Would you consider creating a course about your work experience or your lifelong hobby to benefit others? The Internet is a vast billboard where people have taken advantage of sharing their expertise with or without compensation.
However, if working on the computer and the Internet is not of interest to you, there are other ways that you can market your expertise. For example, I live in a planned community in which we have recreation centers that offer various classes taught by local residents, most for a fee. There may also be various halls and churches that would allow a person to provide classes of interest to local residents. My community also has several craft fairs and food fairs during the year. 
If extra income interests you, stay tuned for more on this subject.